Facebook is huge. As the largest social networking community in the world, it has an estimated 2.2 billion monthly active users. This social network went from being unknown a little over a decade ago, to now having billions of people on it today.
With such a huge community, ignoring Facebook is definitely not an option for digital marketers. One thing is for certain: your target market is using Facebook almost every day, even with the new data leak. The question you should ask yourself is how to use Facebook and Instagram to reach and grab your market share.
Thankfully, Facebook has made this easy for businesses by providing an advertising platform that allows marketers to zero in and target specific user groups. Your Facebook ads can target users by location, interests, demographics, and much more.
Getting started with Facebook ad campaigns is easy. I'll show you how you can use the advertising platform to your advantage. This guide is aimed at beginners who want to run ad campaigns on the largest social network for the first time. But, old timers can also benefit if their Facebook ad campaigns need some finetuning.
You'll find answers to many questions, including:
How to get started with Facebook ad campaigns?
How to set goals for your campaign?
How to use Facebook Ads Manager?
How to choose an audience?
How to select ad placements?
How to set a budget?
How to create your first ad?
If your goal is to go from a Facebook ad newbie to an experienced ad manager, then go ahead and read the whole guide. I promise you'll learn some new tricks while creating ads that will convert.
Getting started with Facebook ad campaigns
Facebook Ads isn't like Google's Adwords. Nobody is searching for your content or website on Facebook for the most part. What this means is that your ad must stand out and get in front of your target audience for it to yield some return on your ad investment.
So you need to understand a few factors in order to get great results.
1. Set Your Goals
It's easy to dive in and start creating ads on Facebook. But you must first set your goals. Why are you on Facebook and what are you trying to achieve?
Many marketers fail because they did not have definite goals and without a specific intention, they couldn't define their audience correctly. Before you click on the "Create Ad" button, you must first set a goal. Here are some examples:
Grow your audience on Facebook
Get more traffic to your website
Brand awareness
Get signups for an event
Sell your products or services
These are typical goals most marketers will set before creating a campaign.
2. Choose an Objective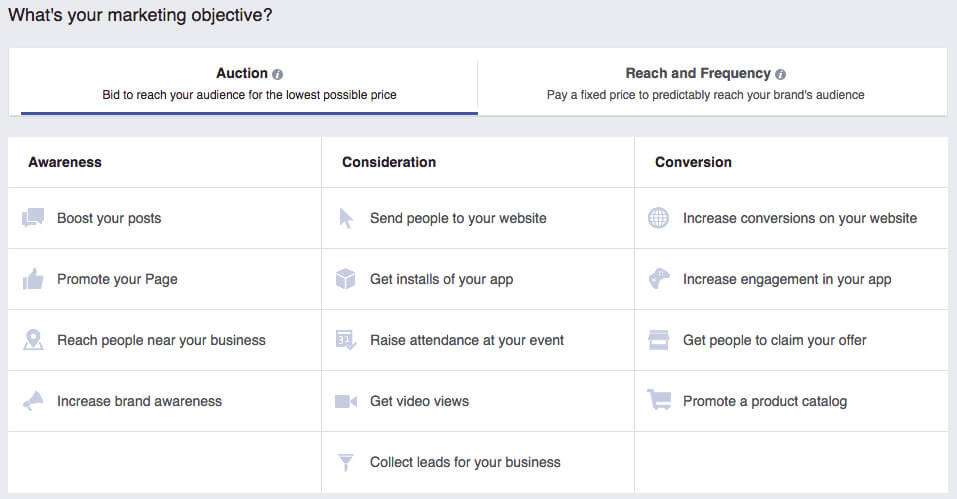 Go to Facebook Ads Manager and choose an objective. Facebook Ads Manager is where all the magic happens on Facebook's advertising platform. So you want to get familiar with this section real early.
Here you can create your ad and choose your marketing objective. Now, this is different from the goals I mentioned earlier. Your marketing objectives are broken down into 3 categories:
Awareness – Campaigns with this objective are designed to get your brand noticed on Facebook. This could be for your posts, page or website.
Consideration – These are ads that get users to click through to your page or website. They are designed to pique users curiosity and could be for the purpose of engagement, app installations, website traffic, etc.
Conversion – This is the most profitable objective because you are basically converting your leads into customers. It could include goals such as software installation, freebie offers, website registrations, app installs and much more.
After choosing the category that best suits your marketing goal, it's time to save the campaign and move on to the next step.
3. Your Target Audience
Choosing the right target audience can REALLY be a challenge, so you want to put some forethought into the choice you make at this stage.
Pick users that fall into the location of your business. This one is a no-brainer. If you cast your net wide, you'll effectively not "catch any fish". You want to narrow down to the area where your target audience resides. But if your business isn't dependent on location, then other factors like age, gender, language, interests, behaviors, and connections will be useful for your ad.
The key here is to target your audience in a way that will benefit your business. You will effectively be wasting your marketing dollars targeting people who speak Spanish when your product or service is in English. So choose carefully!
4. Ad Placement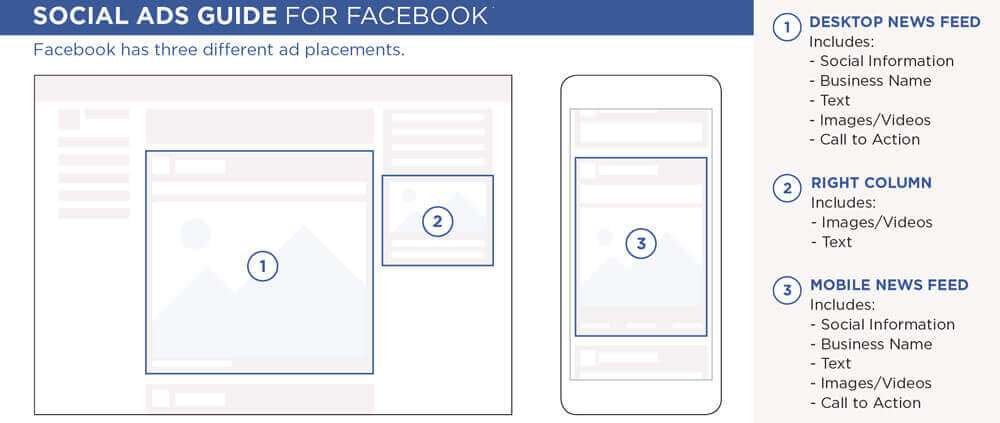 Where do you want your ads displayed? Facebook offers placements on other networks like Instagram, Audience Network, and Messenger.
Allowing Facebook to automatically place your ads where they'll perform best is a good option here. Unless you're very experienced in preselecting ad placement positions, it's best to leave these to Facebook's algorithm.
5. Choose a Budget
This decision is one you'll have to make on your own. How much have you allocated to Facebook ads? Bear in mind that you can simply set your daily maximum or total spend for the entire campaign.
Choose a date range and when you want the ad to start running.
6. Create Your Ad

You have to choose a format for your ad. The options available are a carousel, single image, single video, and slideshow ads. These formats available are directly related to the objectives chosen from the start.
You will need to upload an image or video; depending on the format you choose. The good news is that Facebook offers a free library of stock images that you can use for the ad. So if you don't mind generic photos, then this is a great tool to use.
Finally, you have to add content to your ad. Every marketer worth a pinch of salt knows that your ad copy can make the difference between success or failure. So you should pay extra attention to the content you create.
That's it, you're done! Just click the confirm button to submit your ad and add your payment information. Facebook will review the ad to make sure it's within their terms and conditions and then they'll activate it. This is usually done no more than a few hours later.  Give it a try, start with $5, it's easy and fun!
As easy as this is, some people just don't have the time. We can take care of this for you if needed without pay per click advertising and more.
Spread The Love > Please Share
Click below for a FREE quote and learn how we can generate more leads for your Cleveland, OH area business.
Cleveland Paid Ads News & Updates
Are you a beginner at creating Facebook Ads? Don't worry, our 7 essential tips will help you create highly engaging and creative ads that will
Read More »
Whether you've been in the trade business for a long time and you're improving your online presence, or you're just getting started and trying to
Read More »
The stats around Google's pay-per-click (PPC) advertising is quite mind-boggling. A full 97% of Google's revenue comes from PPC advertising. This totals to a whopping $21 billion
Read More »
Sign up for our free newsletter with the latest marketing news & tips