There are 2 parts to this post. Part 1 covers 10 amazing tasks you can complete your business using HubSpot lists. Part 2 covers how to generate emails for marketing using the lists you created.  Some really good stuff here. This is just the tip of the iceberg of the things you can do with HubSpot in terms of marketing automation.
We wanted to touch on some key points that I think could help you get started ramping up your digital marketing and marketing automation. And of course, if you need any assistance you can always ask 216 Marketing, a HubSpot certified company.
Let's start with this:
First, you will have the option to build a smart or static list.  Smart lists will be able to add new contacts to your list based on the criteria you set. Static lists (not recommended unless it is for quick emails) you will have to add them manually.
[ Part 1 ]
10 Things You Can Do With Lists in HubSpot
Lists play an extremely important role in any marketing campaign. It has been found that the Lists App of HubSpot is highly beneficial when used for this purpose.
This post discusses ten useful things you can do with the lists in HubSpot. It is also important to note that the app would allow you to create two types of lists, Static and Smart. A Static list would require you to add new contacts manually, while a Smart list would keep adding new contacts based on criteria set by you. Read on to find out various functions of HubSpot lists.
You can prepare a list of contacts based on their properties
You can begin by preparing a list of contacts that have specific properties (features) in common. For example, your list might consist of people who got added to your database of contacts from various social media websites.
Some other options you can try out include building lists based on Employee Size, Original Source, Life-cycle Stage, etc. You will most likely have access to hundreds of such facts about your contacts; each of those facts can be used for creating a list. There's also the option of adding multiple criteria when forming the list.

This is what an AND statement would look like:

This is what an OR statement would look like:
You can prepare a list of company properties
In addition to various contacts properties, you will also have access to other company properties. Consulting those fields would provide you with information about the entire company and not about individual contacts.
Examples of the information you would be getting include annual revenue, industry, website URL etc. The app would allow you to make finer selections. For example, once you decide to create the list based on annual revenue, it would give you the opportunity to select either of the following options:
The value to be equal to
The value to be not equal to

You can prepare a list of deal properties
For those who don't know, the term "deal property" is used for revenue amounts that one might be pulling at his or her CRM. Here, it must be noted that for building such lists it's important to know the process of incorporating CRM into HubSpot.

You can prepare a list of list memberships
It would be a good idea to prepare a list of an existing list. The idea might appear to be slightly redundant to some, but the fact is that creating a list out of another list is a great way of saving time. If there's another list that has already been set up, you can combine the criteria used to make that existing list with a few more criteria to get a new list ready.

Prepare list based on form submissions
You can use the HubSpot app for listing contacts that have filled out and submitted one or more forms on your site. After selecting the "Form Submission" option from the initial drop-down menu, you will have to choose between "has filled out" and "hasn't filled out". Once you select the suitable option, you will be directed to another drop down menu for picking the name of the form submitted by your contacts.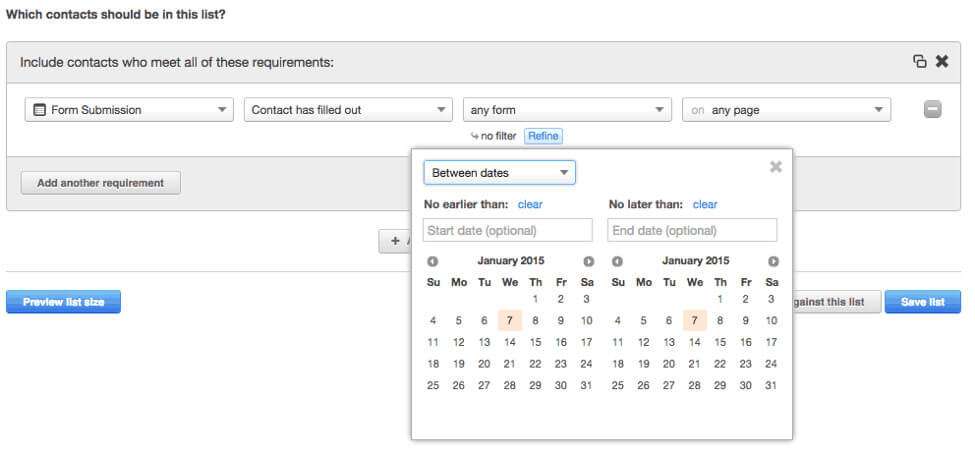 You can choose on any page if your form is used on multiple landing pages or a specific page that your form was filled out on.
Prepare a list based on email actions
You can now focus on building a list based on your contacts' email actions. These lists are prepared based on factors like whether certain emails were opened by your contacts, whether the links in the emails were clicked by them, or whether a particular email has reached your contacts' inbox.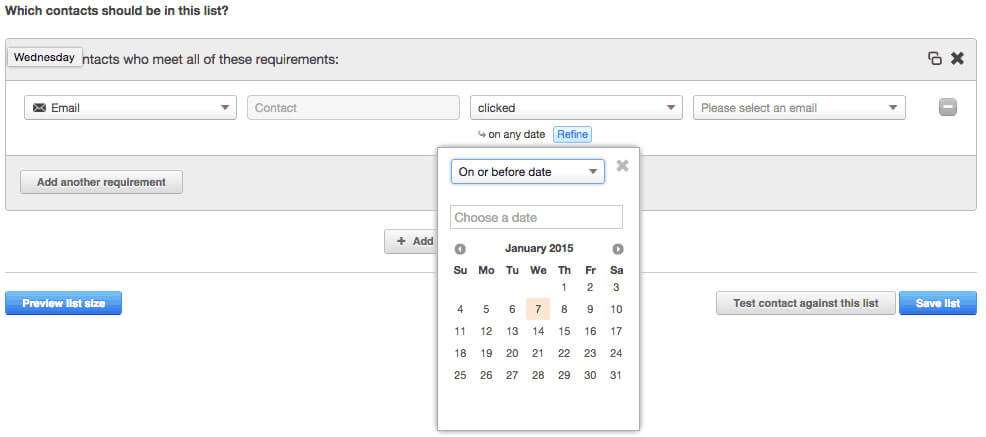 Upon selecting "Email" from the drop-down menu you will be directed to a grayed out drop down menu. This would be followed by a third menu, where you will be allowed to pick the required email action. Some of the options that menu would feature include received but not opened, clicked, received, opened, etc.
Prepare a list based on page views
HubSpot can be used even for building a list of contacts who have visited a particular page of your website. However, you have to remember that at the moment only Enterprise and Professional customers would have access to this option. Upon selecting the Page View option, you will be required to choose between options like has visited the exact URL, hasn't visited the exact URL, hasn't visited part of the URL, has visited part of the URL, hasn't visited a regex, and has visited a regex.
You will get the opportunity of further refining your search based on factors like the number of time your contacts have viewed a page, a specific date range etc.
Prepare a list based on events
Like the previous one, the Events feature of HubSpot is also not available to all. The feature would be available to you only if you are an Enterprise customer. Picking the feature would allow you to monitor behavior or actions a visitor is taking upon visiting your website. For example, it would allow you to find out how many people are clicking on various elements on a particular page of the site.
The most prominent advantage of Events, however, is that it provided users with the opportunity of listing contacts depending on events. For instance, the feature can be used for building a list of contacts based on the actions they took upon visiting your website.
Prepare a list based on workflows
For that, you will have to use the Workflows App of HubSpot (the app is currently available only to the Enterprise and Professional customers). The app would allow you to create lists of contacts that have successfully completed a particular workflow as well as those contacts who have not.
Prepare a list based on integration actions
HubSpot has various integrations that can be used for building lists. Among them are Citrix and SurveyMonkey. SurveyMonkey is an integration that can be used for building contacts list based on whether they have responded to a particular survey. You will also be able to use it to prepare lists based on the types of answers you receive. Citrix, on the other hand, will allow you to build lists depending on whether someone has attended or registered for a webinar.
For Example:
[ Part 2 ]
How to Turn HubSpot Lists into Emails?
Now that we know how to use lists, it's time to learn the process of making emails for marketing. For a large number of marketers, emails are different from all the other marketing analytics and lead generation tools in use currently. The good thing about HubSpot is that it has all those tools integrated, which allows them to work simultaneously.
Depending on your needs, the email tools in HubSpot will allow you to send emails to specific people on your contacts database (for example, you can decide to send emails only to people who have filled out a particular form on your website) as well as to every name on the database.
Email marketing would assist you in bringing back contacts onto your website and find out who among them is more interested in your offerings. The email tool by HubSpot can be used for the following purposes:
Qualifying contacts based on whether or not they are opening and clicking on links provided with your emails
Notifying the contacts about offers, promotions, and events that might attract them
Sending monthly or weekly newsletters to the contacts
Informing the contacts about fresh features for creating upsell opportunities
Before presenting the how-to guide for setting up emails, we would like you to know that you should begin by setting up a suitable template. Once you have a template that is capable of maximizing your content, start following the steps below to set up an email.
Navigate to the "Email" Option
From the Marketing Dashboard, you will first need to navigate to Content and then select the option "Email". This would take you to the HubSpot Email Dashboard.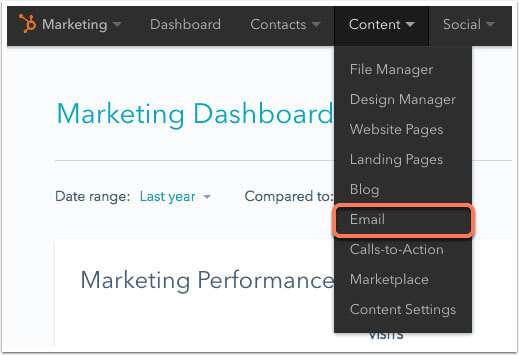 Create a new email
Click on "Create new email" (the words would be written on a blue button).
Pick a suitable template
Browse or search for a suitable template among the existing ones. If you fail to spot a template that matches your current requirements, click on "All Marketplace Templates". This would allow you to browse through the marketplace email templates. You can also build a template all by yourself by clicking on the "Create New Template" button.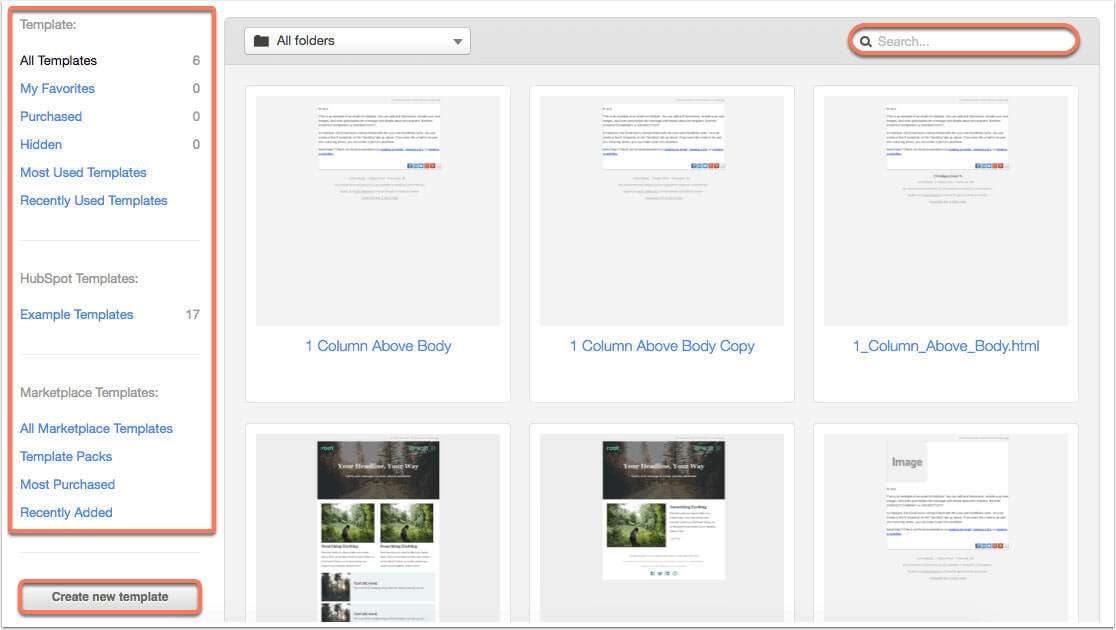 Create the email
Once you have a suitable template, click on the template and name your email. Next, click on the "Create" button.
Edit the email
The email's Edit tab is the place where you would need to set up details for the email and add necessary content to it. Hover over any module of your choice and click on it for editing its content.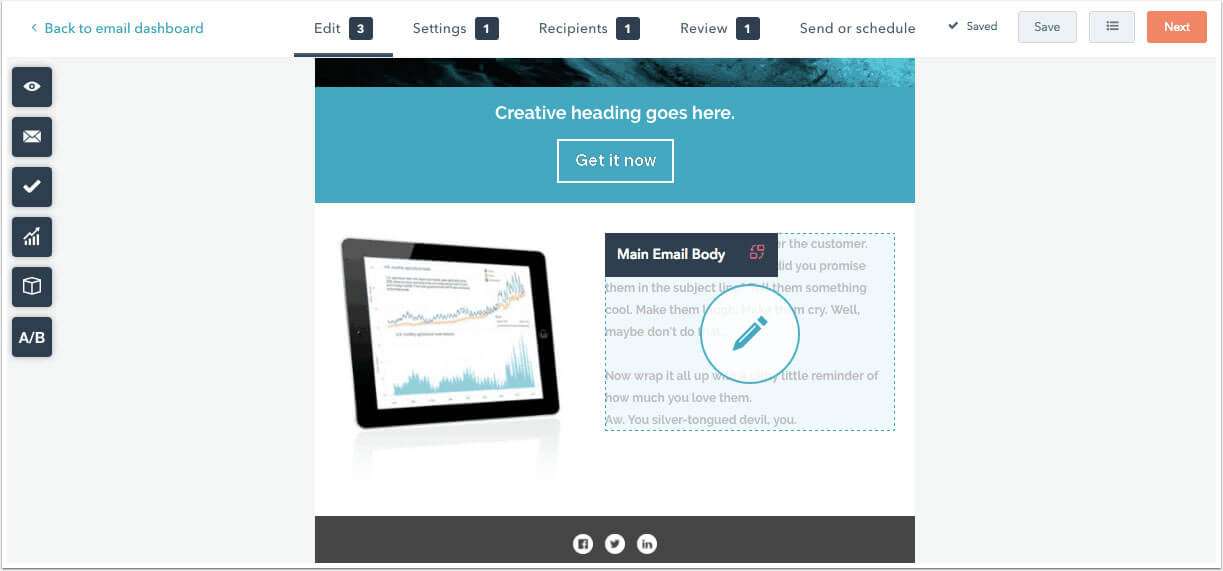 To add information such as your name, email, Preview Text, and Subject Line, click on the Edit Details button at the screen's top. Adding a Subject Line, your name, and your email is mandatory for sending an email.
HubSpot will generate your content's plain text version automatically. Clicking on Plain Text would allow you to see your email in a stripped down form. You will be able to customize that version according to your requirements by clicking on the Edit button.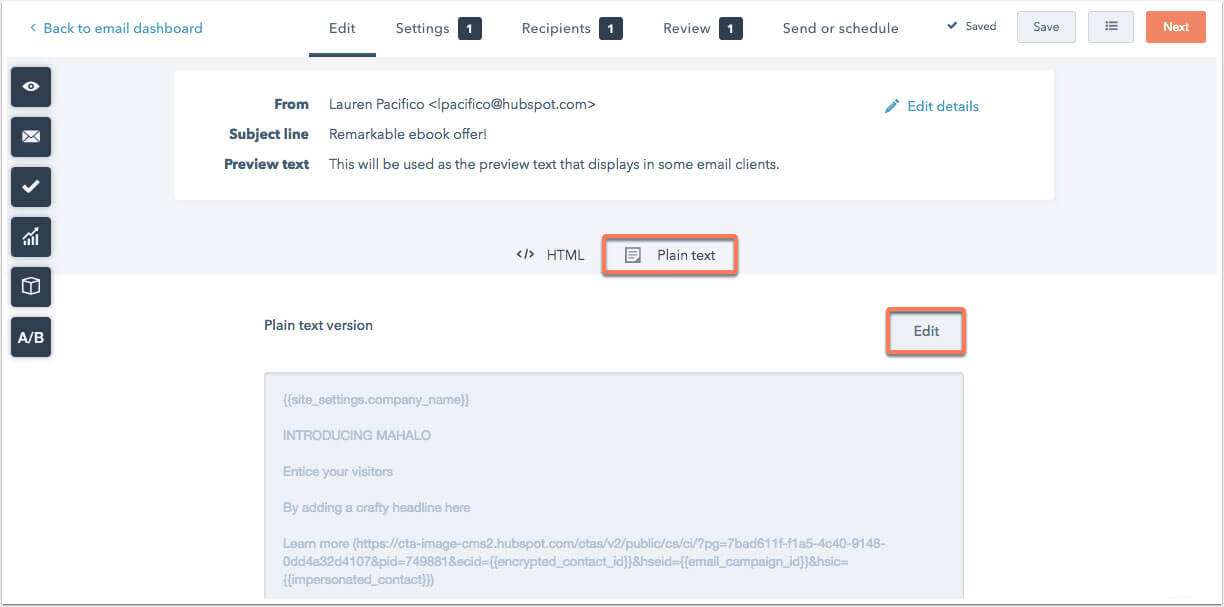 Leaving this particular feature alone should be the way to go on most occasions; edit only if it's absolutely mandatory to give a different look to the email's plain text version.
Work on the settings
After editing your email, click Next and enter Settings. This tab would allow you to change the name mentioned in the email body, make the email a part of a campaign, categorize the email into a specific type (you would need to assign a type for sending the email), etc. In addition, you can turn on your email's web version and edit its Meta description, name, and URL.
At the Settings screen's bottom, you will find a section meant for changing the template settings (you will be able to use it to edit or swap the template). You can use the same section even for editing footer information.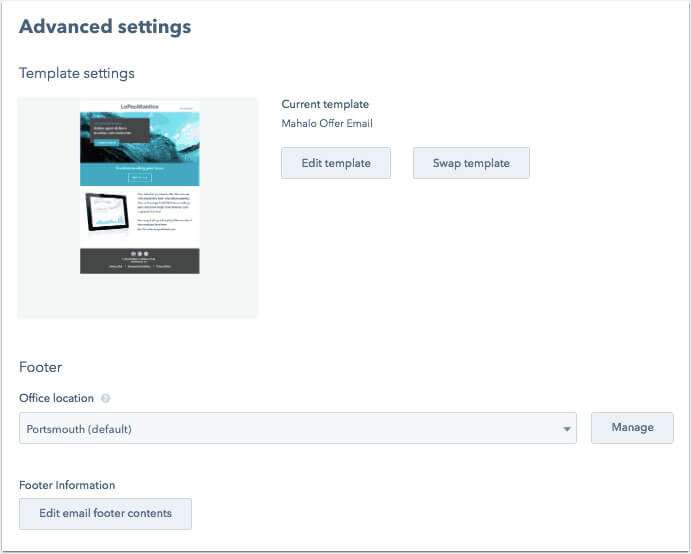 You will find an eye icon on the screen's left sidebar. Click on that icon to check an email preview i.e. how the email would appear on various devices. You would also get to see how your email would appear to particular individuals on your database.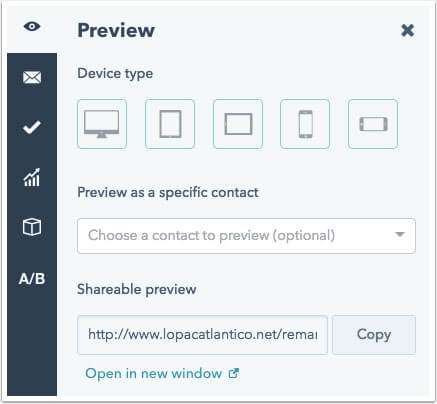 There is much more you can do in this step we are just covering the basics to get you going.
Pick the recipients
By clicking Next move to the next tab i.e. Recipients. Here, you will have to pick the people you want to receive your email. Depending on your needs, you can add individual contacts or specific lists as recipients. If you are using the Enterprise or Professional version, you will also be allowed to save the email for automation.
Picking the Add Recipients option would allow you to search or browse through individual contacts and lists for adding emails of recipients on the Send To section of the email.  There's also the option of excluding certain individuals from a list if you don't want them to receive your email although others on the same list receive it.
Review the email
Click Next to enter the Review screen. There, you would find a checklist that includes items you have added to the email setup as well as some recommended items which can still be added.
Schedule or send the email
The final step would require you to either schedule or send the email you have created. HubSpot would allow you to choose any one from three available options; you will find the options by clicking on the Send or Schedule tab. The options are:
Send Now: Clicking on Send Now would mean that the email will reach the selected recipients immediately.
Schedule the email for later: This option would allow you to set any future date and time of your choice and recipients shortlisted by you would receive the email at on that particular date and time.
Smart Send: This is an Enterprise and Pro only feature. This feature will allow you to schedule emails to be sent according to the local time zone of recipients.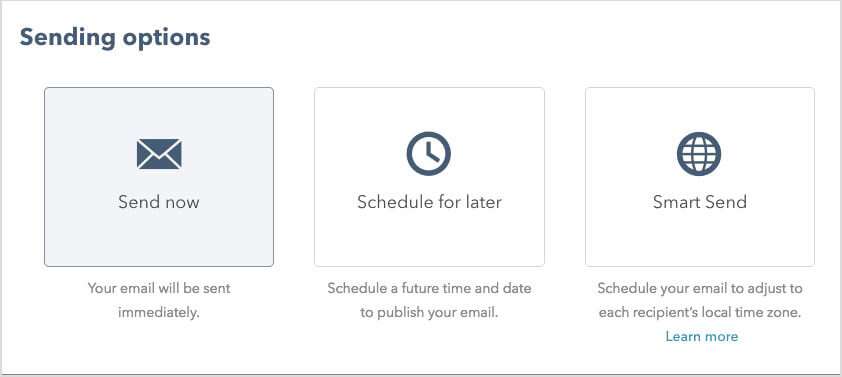 Enterprise and pro users should note that if they select Save for Automation, the Send or Schedule tab would not appear on their screen. The next step of reviewing the email would be clicking on the Save for Automation button (you will find it on the screen's top right corner) for publishing the email and thereby making the email available to be sent in workflows.
If you need any assistance or just don't have the time, please contact us today!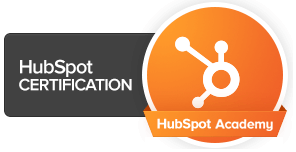 Spread The Love > Please Share
Click below for a FREE quote and learn how we can generate more leads for your Cleveland, OH area business.
Cleveland Area Marketing Automation News & Updates
There are 2 parts to this post. Part 1 covers 10 amazing tasks you can complete your business using HubSpot lists. Part 2 covers how
Read More »
Sign up for our free newsletter with the latest marketing news & tips